Natural Porcelain Veneers
Design Your Smile with Porcelain Veneers
we understand that every patient is unique and has a different smile line and tooth shape. As such, we take all of these factors into consideration when creating veneers for you.
Cosmetic Dentistry
Porcelain Veneers
Porcelain veneers are among the most aesthetic means of creating a naturally beautiful smile. They can be used to create more pleasing tooth contours, close spaces, lighten tooth colour, and more. Patients often worry that porcelain veneers won't look natural or that we only offer one-size-fits-all results.
Nothing could be further from the truth. When placed by Preston cosmetic dentist Dr. Kaviani, veneers are a conservative solution to designing a new smile that will last for ages. Porcelain has been shown to closely mimic the look of natural tooth enamel, lending veneers a look that doesn't give away the fact that you've had work done.
Placing custom veneers requires a high degree of technical skill as well as attention to cosmetic detail. We place veneers routinely and design each case individually to match and enhance the characteristics of each patient's smile. It takes a highly trained artistic eye, as well as skill level to create beautifully, yet natural looking smiles by using porcelain veneers.
Porcelain veneers are usually the option of choice when creating a big change in a patient's smile. Porcelain veneers can be used to change colour, shape, size, positioning, and inclination of teeth. A drastic change can be created by using porcelain veneers.
Benefits of Porcelain Veneers
They can easily conceal gaps, chips, cracks, and spaces between the teeth.
Veneers can improve the appearance of short, misshapen, or discoloured teeth.
Composed of durable material, porcelain veneers typically yield very long-lasting results.
They are customised to fit the dimensions of your natural tooth for a precise fit.
Veneers are colour-matched to surrounding teeth for the most natural appearance possible.
Porcelain Veneers can improve a gummy smile
Veneers Broaden a Narrow smile
Veneers can shorten, long teeth
Award-winning custom made Porcelain Dental Veneers
Wondering about the cost of veneers in Lancashire? Contact our Cosmetic Dentistry clinic today and we will be happy to give you a quote. The cost changes depending on the type of veneer you get, and how many you will need.
View our pricing here:
Porcelain — from £1100
Emax/Zirconia — from £1200
Highly Aesthetic zone -from £1900
WHAT ARE VENEERS MADE OF?
At Dr. Kaviani's veneers are made from Nano Emax porcelain. Nano Emax offers the fit, form, and function which is expected from pressed ceramics. In addition, they offer improved flexural strength (400 MPa). With optimized esthetic properties creating all-ceramic restorations that offer true-to-nature results, Nano Emax is usually used for front teeth.
Which type of veneer is best for me?
composed of a durable, high-quality ceramic that can be matched to the shade of your surrounding teeth for a seamless, natural look. These veneers that can be individually customized for your teeth, achieving the best possible fit as well as a beautiful appearance
can dramatically improve the appearance of your smile with a treatment that enhances your comfort and minimizes the time of the procedure. Depending on your unique needs, the Lumineers® procedure is an extremely conservative restoration treatment that requires either minimal tooth preparation or no tooth preparation at all. 
e.max porcelain veneers are the latest in cosmetic porcelain. They offer durability and a natural look for the patient. These veneers are generally made of pressed ceramic. They also come in thin layers, which preserves more tooth tissue.
Empress restorations also possess characteristics of natural tooth enamel and can be produced with excellent fit. Two layers compose Empress veneers: a medium-strength pressed ceramic base coping (to provide moderate strength) and a glass layer on top. is manufactured from a material called IPS Empress® 
Feldspathic veneers produce the most striking results out of all of these options. Instead of a base being used, the ceramic is custom stacked by a highly-skilled technician. Because these veneers must be specially designed and are more difficult to insert, they are more expensive.
Procera veneers are composed of two layers: an aluminum oxide base coping which is custom-milled and a feldspathic layer giving it a more esthetic and realistic look. These veneers can look great when made by a master ceramist, but they are thicker and require more tooth preparation.
Digital Smile Design
Process for Getting Dental Veneers?
Porcelain veneers can transform an average smile with discoloured teeth and mismatched shapes into a straight, white, aesthetically pleasing smile.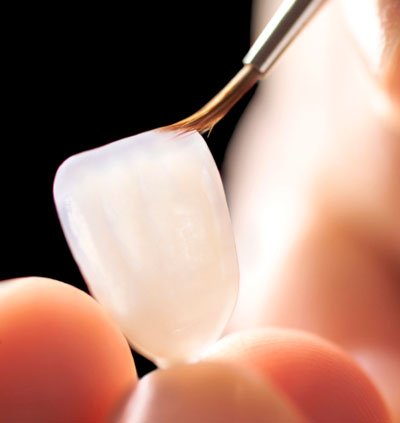 Veneers Diagnosis and Planning
When you meet with your dentist for a consultation, you will discuss what you intend to get out of this procedure. Your dentist needs to understand what you hope will happen by adding dental veneers. For example, you may want to correct the appearance of your teeth. During this consultation, your dentist could make the impression and possibly use x-rays to get a better look at your teeth.
Enhanced digital photography
When you laugh, do you cover your mouth with your hand to mask your teeth? Or have you perfected the 'guarded smile' look rather than beaming confidently? Expressing yourself without feeling self-conscious is very important. Cosmetic dentists at Lane Ends Dental Practice will help you to bring that carefree smile back to your face. Your smile makeover with porcelain veneers will begin with taking photographs of your smile, just as it is now. This is to give you chance to show us what you don't like and help us give you advice on which treatments would be best to transform your teeth.
Video Analysis
The way our lips move when we talk is a lot different from the way we look when we smile for a photo. We don't see ourselves as other people do very often, which is why the second step is to film a short clip of you speaking, so you can look at how your smile works as part of your face in general speech. 
Smile Design Analysis
We begin designing your perfect smile with a clear image of the end results in mind, combined with the way your smile looks now. Using the power of modern dentistry, together with our expert dentists you can discover a solution that looks amazing whilst also taking function, health and biology into consideration. You can choose from a combination of braces, porcelain veneers, teeth whitening – whatever you want to create your dream smile. We can then begin to create the blueprint and start to make your dreams a reality.
Smile Preview
Using enhanced technology, we can create digital drawings to show you what your smile will look like before treatment even starts! At this point, you can decide on any final alterations, for example, colour, tooth shape etc. before we get started with treatment.
Veneers Treatment
Your transformation can now begin! One of the strongest advantages of working with expert cosmetic dentists is that you'll already know what your smile is going to look like, whether you're having braces, teeth whitening or porcelain veneer treatment.
Natural Looking Smile
Say hello to your spectacular new smile. We'll be taking pictures and videos again, but this time you won't be able to stop smiling!
Let us transform your smile
With a digital smile design, you have the power to choose your own dream smile and make it happen right here in Preston , Lancashire. If you can't wait to get started, call us today on 01772 726932 to arrange a consultation.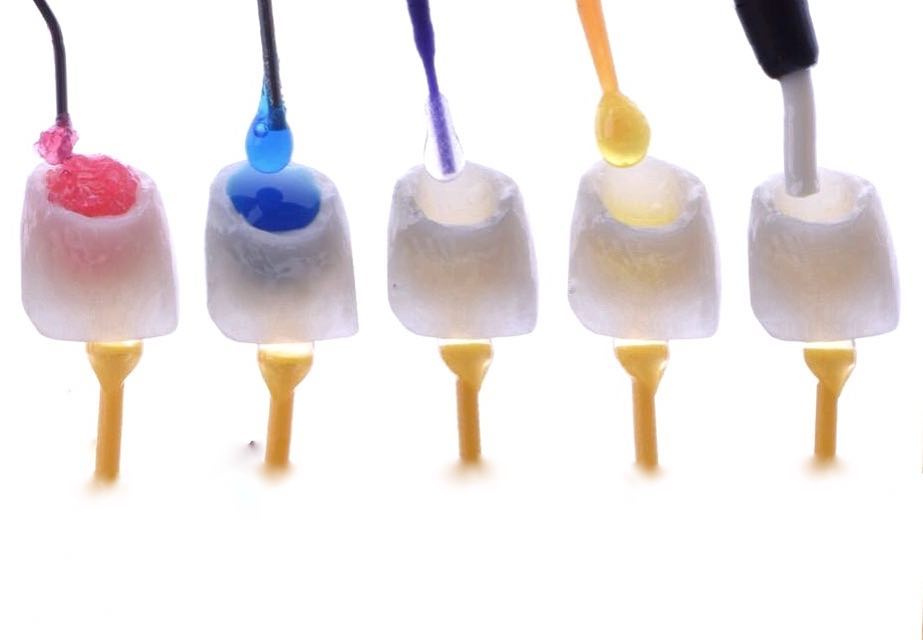 Completed Smile Makeovers
Hours of Post-graduate Education
FAQ's about Porcelain Veneers
"A smile is a curve that sets everything straight" A beautiful, healthy smile can lift self-esteem, make you feel good and transform your confidence. Porcelain Veneers are one of the most popular Quality Cosmetic Dentistry services we provide, rejuvenating smiles across Northwest.
Are Porcelain Veneers Safe?
When correctly planned and executed, the risks are very minimal. Porcelain veneers are actually one of the most reliable forms of treatment that a dentist can provide.
Some people have very heavy bites. Their teeth may fit together poorly or they grind their teeth while asleep. Porcelain veneers are more likely to break or become unstuck in this environment. Wearing a guard while asleep protect porcelain veneers from grinding damage. Sometimes, porcelain crowns may be a better option in a heavy bite. Teeth realignment with braces or a full bite rebuild would be better still. Having all teeth working together correctly can significantly improve the long term chances of all teeth and jaw joints.
Do Porcelain Veneers Stain?
Porcelain veneers should never stain. you don't have to stay away from strongly coloured foods or drinks. However, the outer border of the porcelain veneer can stain – but only if the fit here is not perfect.
The fact that they don't stain can be an issue. This is because the surrounding natural teeth and fillings will change colour over time. So a single tooth treated with a porcelain veneer may end up looking far lighter than the teeth that surround it.
Not to worry though! Teeth whitening procedures will re-lighten the surrounding teeth to their original colour. And you use the porcelain veneers to judge when to stop bleaching.
How Much of my Tooth Will be Removed?
With thorough and accurate planning, a blueprint is provided by Digital Smile Design. This blueprint allows for exactly the right amount of reduction.
With little or no tooth structure reduction ("prep-less" veneers) you really have little opportunity to create ideally shaped teeth. Only thicker porcelain will cover darker teeth and blemishes. Consequently, thicker dental veneers can make teeth look ridiculously bulky without the correct amount of tooth preparation.
On the other hand, if too much structure is removed the bond to what remains will be weak. Bonding to deeper parts of a tooth is of lesser quality. Over-preparation of a tooth can lead to a less durable result, or worse still, to nerve damage.
Do Porcelain Veneers Last?
Most porcelain veneers will last for 15  years. The thin porcelain shells become extremely strong when firmly affixed. But they must accurately fit the tooth, and the bite must be designed correctly. Modern adhesives used to attach the porcelain veneers are incredibly reliable when used correctly. However, the tooth structure below the veneer and the gum and bone structures that surround it is alive. They can become diseased or damaged and are the most common reason for early failure.
will my teeth look natural?
We aim to provide all our patients with restorations that look and feels like their natural teeth. You can have peace of mind that this restoration has a completely natural aesthetic and feels just like your natural teeth.
What problems are corrected by porcelain veneers?
Porcelain veneers serve the same purpose no matter who opts for this cosmetic dentistry solution: They utterly transform your smile and appearance. One of the greatest benefits of veneers is that they eliminate the need to have multiple cosmetic dentistry treatments done at one time. Veneers are able to correct several issues at once, including:
Chipped teeth
Superficially cracked teeth
Stained teeth
Short teeth
Gaps between teeth
Worn teeth
Discolored teeth
Misaligned teeth
Oddly shaped teeth
Uneven teeth
Porcelain veneers are a sought-after cosmetic dentistry treatment for their ability to correct several problems at once, limiting your time in the dentist's chair and eliminating the need for you to invest in multiple cosmetic dentistry procedures
Will my Porcelain Veneers Look False?
Natural looking veneers are a result of:
Ideal tooth preparation. This is straight forward when we follow a plan designed by the Digital Smile Design process.
Artistic and technically capable ceramic laboratory technicians. 
How many Teeth should I veneer?
You should consider placing porcelain veneers on the teeth that you can see in your smile. This is different for every person. It depends a lot on how wide the upper jaw is.
In the past, it was common to place porcelain veneers on the front six teeth. But this often resulted in a narrow looking smile. There appeared to be the front six teeth and then nothing much behind.
These days it's more common to place porcelain veneers on the front eight to ten teeth. This gives a much broader looking smile.
How Much do porcelain veneers cost?
Our Porcelain Veneers range from £1100 to £1900 each. The final price depends on the number of veneers, the degree of difficulty.
In Preston, Lancashire, we have seen prices promoted significantly cheaper than this. Some are charging prices that would barely cover the lab cost from a high-end laboratory. Such fees can only be made possible by cutting corners, by using cheaper, inferior materials.
There may be some additional costs before the process can begin. Extra costs may involve:
X-Rays. We take x-rays if there is any hint of nerve damage or Root Canal Treatment (RCT) in the past. It's important to check that there isn't an infection remaining. Such infections are often present with no history of pain.
Fillings. We repair decay or old leaky fillings first. Above all, we need a strong healthy base to firmly fix the porcelain veneers too.
Smile Test-drive. We take moulds of your teeth if you chose to go beyond the Digital design stage of treatment. Using your smile design prescription, our lab technician adds wax to each tooth on your models. It's absolutely vital in the process so you can be sure you'll get the result you want.
Difference between a porcelain crown and a veneer
The preparation for porcelain veneers commonly only involves the front surface of the tooth. They can sometimes wrap just over the biting edge. On average, 0.5mm of the outer tooth surface is removed.
A crown is only chosen if the tooth structure remaining is weak and not able to support a porcelain veneer.
A crown preparation extends 360 degrees around the tooth. Typically they need around 1mm of tooth structure removed from all surfaces.
will my upper teeth with veneers , match the lower teeth?
Most people don't show the lower teeth as much as they do the upper teeth. However, as we age, the lower teeth can become more visible. Gravity takes its effect on the lower lip.
If you do show your lower teeth in your smile, then porcelain veneers can be a great option. Many people will simply whiten their lower teeth to match the uppers.
Teeth bleaching before the veneer process can be helpful. Firstly, we can choose the colour of the new veneers based on the new brighter lower teeth. More importantly, we can prepare the teeth more minimally if their colour is lighter. To cover over a dark surface, porcelain veneers must be thicker. In contrast, we need only a thin layer if the colour of the tooth is already correct.
is it painful to get porcelain veneers?
There should be little pain after porcelain veneer treatment. There may be some slight tooth sensitivity while the temporary veneers are in place. After firmly fixing the dental veneers in place this sensitivity will quickly go away.
The preparation and bonding process requires strict control over moisture. Therefore we gently push your gums out of the way during the procedure. Because of this, some people can have mild discomfort in this area for a day or two after treatment.
After we fix the veneers in place, your bite may change. You may now bite a little too heavily on one particular tooth. Soon after, that tooth can become slightly tender. This is easily and quickly fixed with a simple bite adjustment to the area.
Can I whiten my Veneers??
Porcelain veneers hold their colour very well but composite resin tends to stain slightly over time. If your veneer has had some sort of trauma/physical impact, the inner tissue of the tooth can get damaged causing the tooth to turn yellow. If you have an old veneer this could darken over time due to the type of material that was available back then. The materials used now are far more advanced and hold their colour well.